Prophecy & Destiny
Chapter:
Prologue and Chapter One
Chapter Rating:
PG
Fandom:
Merlin / Legend of the Seeker
Ships:
Mainly (eventually) Arthur/Kahlan and Merlin/Cara. Secondarily Arthur/Morgana, Lancelot/Guinevere, and hints of Richard/Kahlan, Richard/Morgana, and Darken/Morgause.
Story Summary:
After surviving the events of
Light, Dark
and
Perdition
(episodes 2x08 - 2x10), the Seeker must resume his mission in following the compass he holds to the Stone of Tears. In the midst of his quest, Richard Cypher receives word of a new prophecy:
The Seeker of Truth cannot prevail without the help of the Next Great Wizard.
As fate would have it, the young wizard now works in the one kingdom in all of the Midlands where the use of magic is treason: Camelot. This journey not only leads to Merlin, but to a reunion between Kahlan Amnell and Arthur Pendragon, who share a past unknown to the rest of their companions.
With his gift now at the forefront of this mission, Merlin must now step up to the plate and be a hero while dealing with a magical world beyond his imaginings. Arthur will have to contend with the revelations regarding those that matter the most to him, with the fact that - for once - he
isn't
the man in charge, and with facing old ghosts and demons his heart had never intended on dealing with. Kahlan must now face the dilemma between what she wants most and what she must do. And, in the midst of the most inhumane situations, Cara relearns what it is to be human. All the while, Morgana, King Uther's ward, remains missing, the Midlands are slowly succumbing to the Keeper, and Camelot has fallen under the attack of the Sisters of the Dark.
Can this motley crew succeed in finding the Stone and bringing about the Keeper's downfall, just as prophecy foretells, or are they destined to fall at the hands of the Keeper's newest and most powerful agents, who are much closer to them than they realize?
Author's Note:
This story takes place immediately after the second season of Merlin, and partway through the second season of Legend of the Seeker (just after 2x10).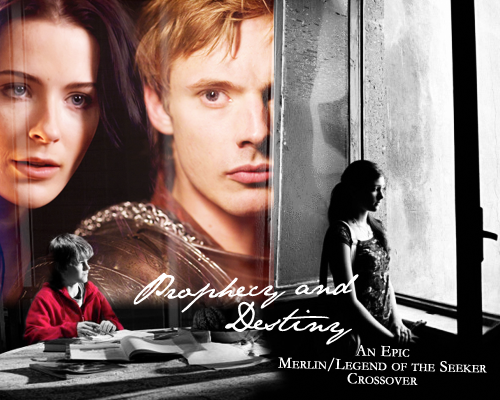 (
Anxious?
Collapse
)
feeling:
accomplished